So I told a few people that I was really liking VuhDo and how I had things set up, said people wanted screenshots, so here are screen shots.
I made things pink intentionally, you can make it any color you want
Random, but worth noting that only the first picture shows my default action bar. The others show the shift modifier because of shift+cmd+3 to take a screen shot lol.
So the UI as well as raid frames are new- I'm now using LUI and VuhDo. Both required a ton of time to get them the way I wanted them, and I'm still not totally happy (I hate the current buff frames, but Elkano's Buff Bars kept giving me serious errors and problems) I have a Razer Naga, hence the bar setup. Most things can be hidden away at one point or another. There's also a nice little 'NPC' frame on the side- that lists any/all friendly and non friendly NPCs in a given encounter.
So first up is just showing everyone in range with a ready check going. I set it up so that in a 5 man group, the party is in the center of my screen, and it expands outwards in both directions as the raid increases in size (so it's always relatively symmetrical). I have the designated tanks on their own tab and removed from their group when in a raid (which is what leads to odd sizes).
Yes, I zoom out a lot lol. Gotta see all of the things.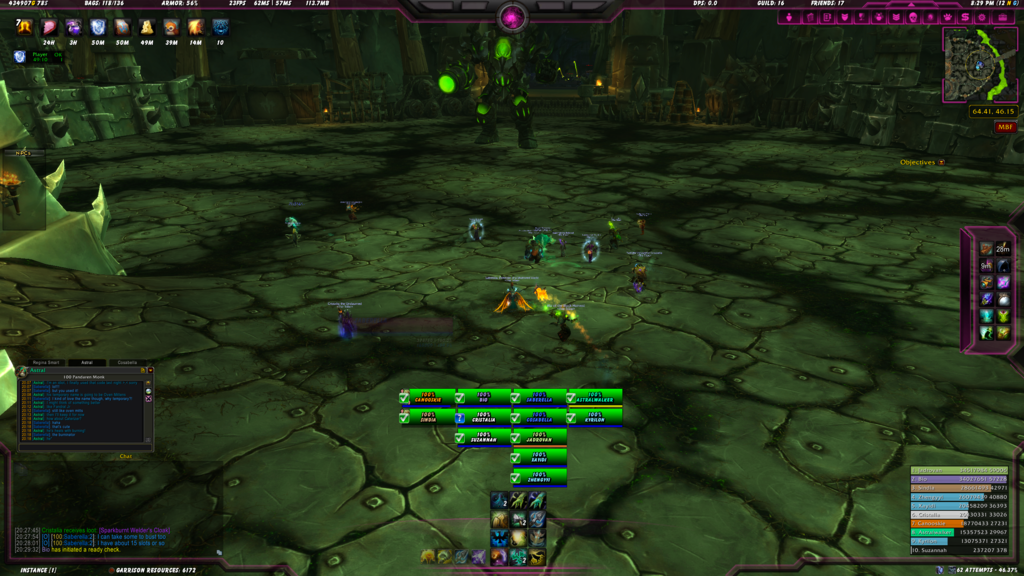 So right now all my raid warnings are in the middle and I hate it, that's not intentional. I just keep forgetting to move them until it's the middle of a busy fight and they're blocking my cast bar. My cast bar isn't showing in any of the photos- it's directly above the raid frames in the center. I use Quartz for that. It is also pink.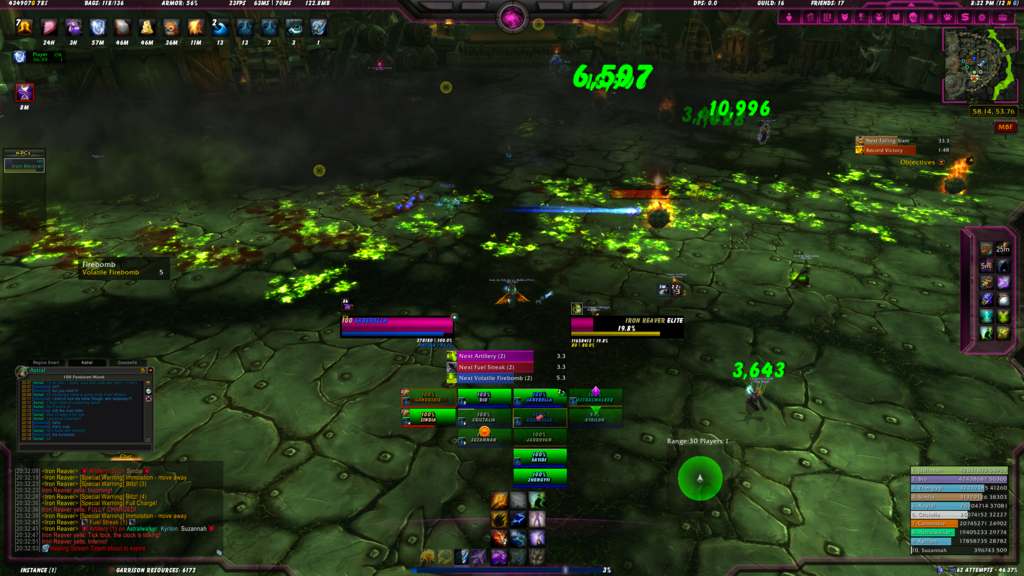 So when people are out of range, they're slightly faded out (but not too much). If I hover over them, a nice handy arrow appears and tells me the direction they're in if I need to move to them for healing (as seen above). I have the frames showing only my buffs- so it displays Earth Shield (mine and other shamans), my riptides (with a countdown), tidal waves on my icon (with a countdown), makes my frame white if I lack water shield. Turns the entire bar purple (rather than green/yellow/red) if there's a debuff I can cure. It will also show an icon for debuffs on the player that are particularly important. I'll try and take a picture on Council tomorrow- they'll change colors for that fight as you would expect.
I don't have any photos showing super low health, but the colors of the bars change color as the health pool decreases. It goes from bright green through yellow down to red for almost dead. So it gives a quick visual look at the health of the raid without staring at percentages.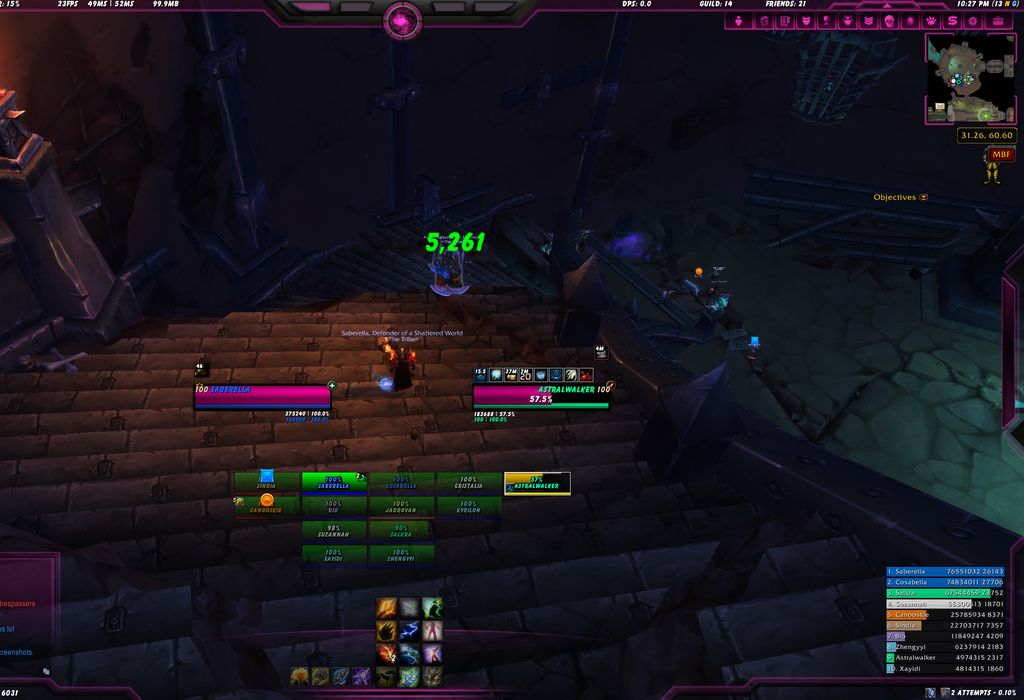 You can set it up to use click casting, though I have it set up for mouseover casting. I also went and made it more ez mode and enabled the smart casting abilities- when there's significant raid wide damage going on, a number will pop up in the bottom right corner telling me how many other targets an aoe heal will hit (healing rain in particular but helpful for chain heal). It will also show an icon for chain heal for the optimum target to cast it on- though not always, usually just in severe damage 4+ people situations.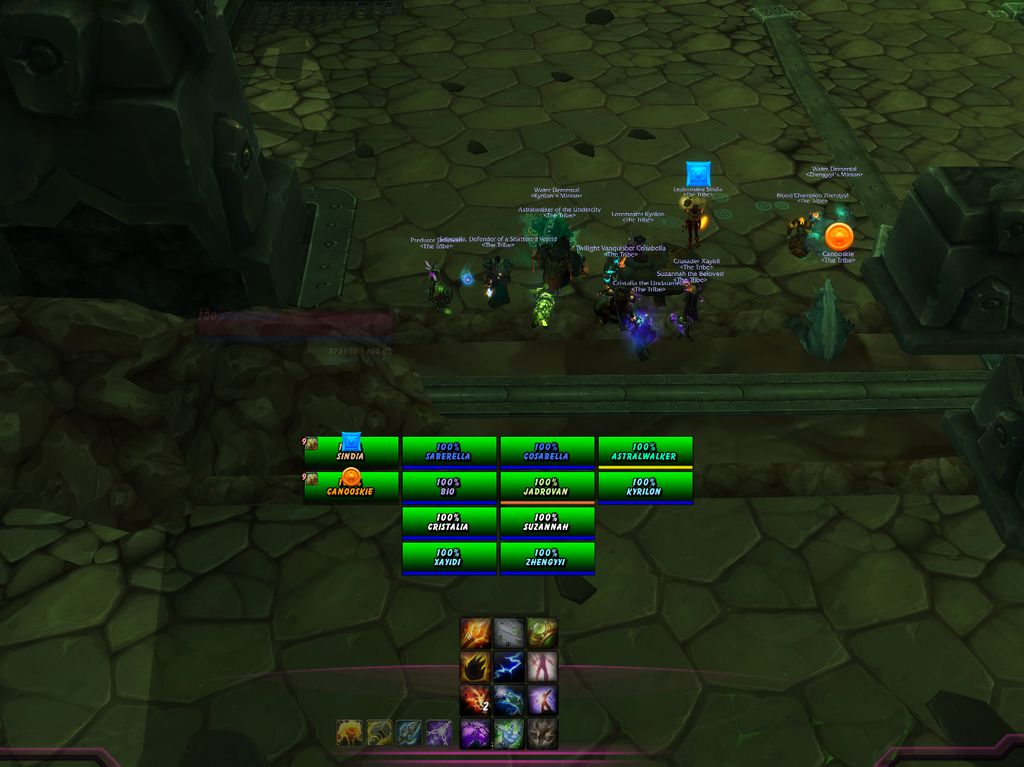 I think it's worth noting that this is my setup, which certainly isn't for everyone. It's no where near this out of the box. It's insanely customizable if you've never used it before and honestly almost overwhelming- I changed the layouts, locations, color schemes, fonts, what the bars show, what position each icon appears in, etc. So you can use this to see a bit of what it's capable of, and do your own thing with it. There's a lot of online tutorials for various healing classes- my druid was a bit more complicated because of all of the things on the frames.
So feel free to ask any questions